Page 3 - WB_catalogue_19_forWeb
P. 3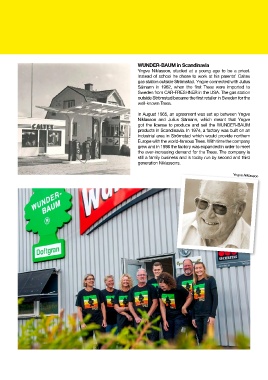 Yngve Niklasson AB






                        In 1962 Yngve Niklasson imported the first Trees from USA.
                                                       ®
                        The first WUNDER-BAUM  Air Fresheners in Scandinavia
                        was sold at the Caltex petrol station just outside Strömstad,
                        Sweden owned by Yngve's father.



                        In 1965 a contract was established with Julius Sämann and
                        Yngve Niklasson. Yngve then started licensed production
                        of WUNDER-BAUM  air fresheners for Scandinavia.
                                               ®


                        The company is a family business and in 1974 the
                        factory in Strömstad, Sweden was built where the second
                        generation Niklasson continue to operate. Yngve Niklasson
                        AB appointed in 2011 SEAB AB as distributor for the Nordic

                        market. Then our famous brand was added to an already
                        strong portfolio of well known brands.